The Hill-Rom Advanta™ Model P1600 bed is a popular fully electric, adjustable "med-surg" hospital bed and is an excellent choice for healthcare facilities, educational and training facilities, and home-use due to its durability, functionality, versatility and ease of use.  Advanta™ was designed to help caregivers provide more care with much less effort.  Also, it was manufactured to ensure safety with safer entry and exiting, along with exiting alerts to prevent patient falls.  This is a 4-motor, multi-function, retractable frame bed with "chair-in and out" positions, Trendelenburg and reverse trend, head up and down, knee up and down, and bed hi and lo features.  Integrated scale, ZoneAire® Air mattress system, side communications including nurse call and entertainment controls, and Patient Positioning Monitoring (PPM) bed exit system are optional features.  Advanta™ replaced the popular Hill-Rom Advance™ Series bed being one-generation newer incorporating improvements to the bed design and features.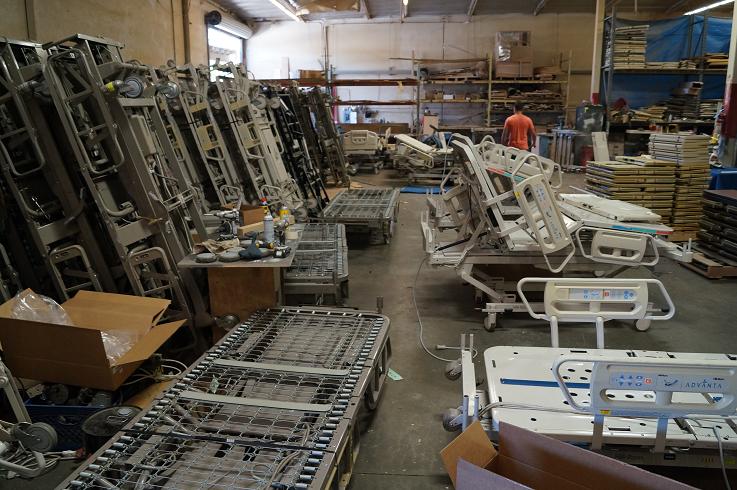 The Advanta model is great for home use, nursing schools and medical facilities. This is a 6 function bed that moves into a "chair position" and also includes Trendelenburg, head up and down and bed up and down features.
The Hillrom Advanta P1600 features promote safety and simplicity. It includes Easy Grip siderail controls that are conveniently located in a central location where patient and caregiver interaction occurs. The featured One-button Chair In position enables caregiver to place patient in the chair position while the bed remains at low height. Its 4 corner brake and steer system allows for easy mobility, and a CPR release function is available to allow for quick CPR positioning along with a removable headboard to assist in CPR positioning.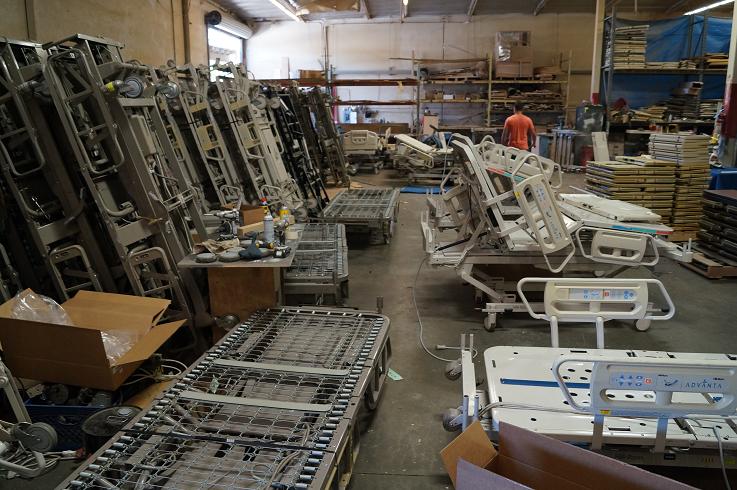 The built in side rail positioning control allows patients to access bed control and adjust as needed for their level of comfort. Lockout for these controls is also possible so the bed may not be adjusted with patient controls. A night light is located at the front end of the bed frame for in-bed safety. The Advanta bed is thoroughly reconditioned and includes a new mattress, bed sheets and a standard one (1) year warranty.
The Advanta Med Surg Bed offers improved ease of use through innovation and proven performance. Designed to help caregivers accomplish their goals, the Advanta Med Surg Bed provides patients egress/ingress, less patient positioning, and more convenience through storage and other features.
Professionally refurbished medical beds to manufacturer's specifications:
JCAHO required documentation
New paint & labels
Fully function tested
Basic bed function (Head, Knee, Hi-low)
Spring sleep surface (Standard) or  orthopedic/Hard pan surface (Upgrade)
Reconditioned  PC boards, 1 year warranty
Fully rebuilt side rails w/new plastics and switches
New head/foot boards, your choice of laminate colors, lifetime warranty
New paint, Taupe (Standard) or Light Neutral (Upgrade)
New motor couplings and capacitors
Rebuilt casters with new components and wheels
1 year parts warranty
Please Note:
Hill-Rom Advanta Beds are large in size, with an overall width of approximately 42.75". Please ensure that this bed can fit into required space and doorways fully assembled before purchasing.
Features
Smart Bed technology enabled for connectivity with NaviCare® Nurse Call, other nurse call systems and EMRs.
SafeView® alerts system
Bed exit monitoring system with Hill-Rom's patented three-level detection algorithms
Nightlight
Audible "brake not set" alarm
SlideGuard® bed articulation technology with Auto Contour™ feature
Electric vascular foot position
Care Grip patient egress assist handle
Point-of-Care® nurse controls
One-button Dining Chair® feature
IntelliDrive® powered transport or central 5th steering wheel
Automatic battery backup
Digital head of bed angle display
30° head of bed alarm
Sidecom® nurse call and entertainment controls
One-hand bed extender
Integrated Line Manager
Positioning controls accessible to the patient
Bed articulations